"I have a Friday and Monday off." he said
"What? How come?" I said absent mindedly still cleaning something or other in the kitchen. Or maybe I was on Instagram? More than likely the latter.
"School's closed on Friday and Monday. I don't have to go in at all" he replied
I stopped doing whatever it was I was doing and went in search of the iPad. In the 10 or so years that my husband has been teaching we have never been able to take advantage of an impromptu long weekend. Neverrrr! Teachers do not get to take a day off during term and before you even think that they have the whole summer off let me give you a very hard Paddington stare. Or one of my long British hmmmms.
Anyway within the seconds it took to find said iPad I had already ruled out anywhere really cold but then Twitter kinda put that back on the list with recommendations for Stockholm and St Petersburg. Portugal was proving a popular suggestion as were the Eastern European countries. But British Airways reward finder was having none of it. Spain seemed to have all the free seats. He wanted Barcelona but I've been. Seville? Fully booked. Valencia? Same. San Sebastián? Hmmm bit cold. We wouldn't be able to take advantage of the outdoor bar crawling. After about 30 minutes of searches and umms and aaars we settled on Madrid. Literally in the middle of Spain. Sunny and warm-ish.
Perfect!
£2 spent on two Business class returns and I would still have a gazillion points left for summer holidays.
Perfect! Perfect!
Special offer on new boutique hotel near city center by joining the 'exclusive' club meaning a 3 night stay for £300.
Perfect! Perfect! Perfect!
And now we are back. It has been a much needed long weekend of doing little other than eating and drinking. Talking. Properly. Like we did before children came along. Reconnecting and reflecting on all things. But mostly eating.
Three ingredients dominated my choices this weekend.
Tomatoes. Oh my how do the Spaniards grow the best tomatoes? I remember visiting the farms in Almeria and Murcia years ago and I don't think I've ever had tomatoes better than these.
Boquerones. Little vinegary anchovies found in almost every place we went to.
Olive Oil. EVOO to be precise and the Spanish varieties are well up there with the Italians and Greeks. I have drenched everything with EVOO the last few days and already feel my skin softening after the last few weeks of dryness from the bitter cold we have had in London.
So in honour of this simple trio I give you this very simple but very tasty dish. I didn't really know what to call it so inspired by the way Nigel Slater has named his recipes in his latest book Greenfeast I kept it short and to the point. Enjoy with a glass of Rueda or Albariño and bread.
Anchovies, Tomatoes, Olive Oil.
Ingredients
2 to 3 large tomatoes roughly chopped in chunks of your preferred size
100g pack of boquerones which you really can find in most supermarkets now or online.
Extra virgin olive oil – about 4 tablespoons.
Coarsely ground black pepper.
Flat leaf parsley roughly chopped.
There really isn't much to this as you can see. Lay the tomatoes over the plate, add the anchovies. I chop them up to make them easier to pick up with the bread. Pour over the olive oil and then sprinkle on the parsley and black pepper.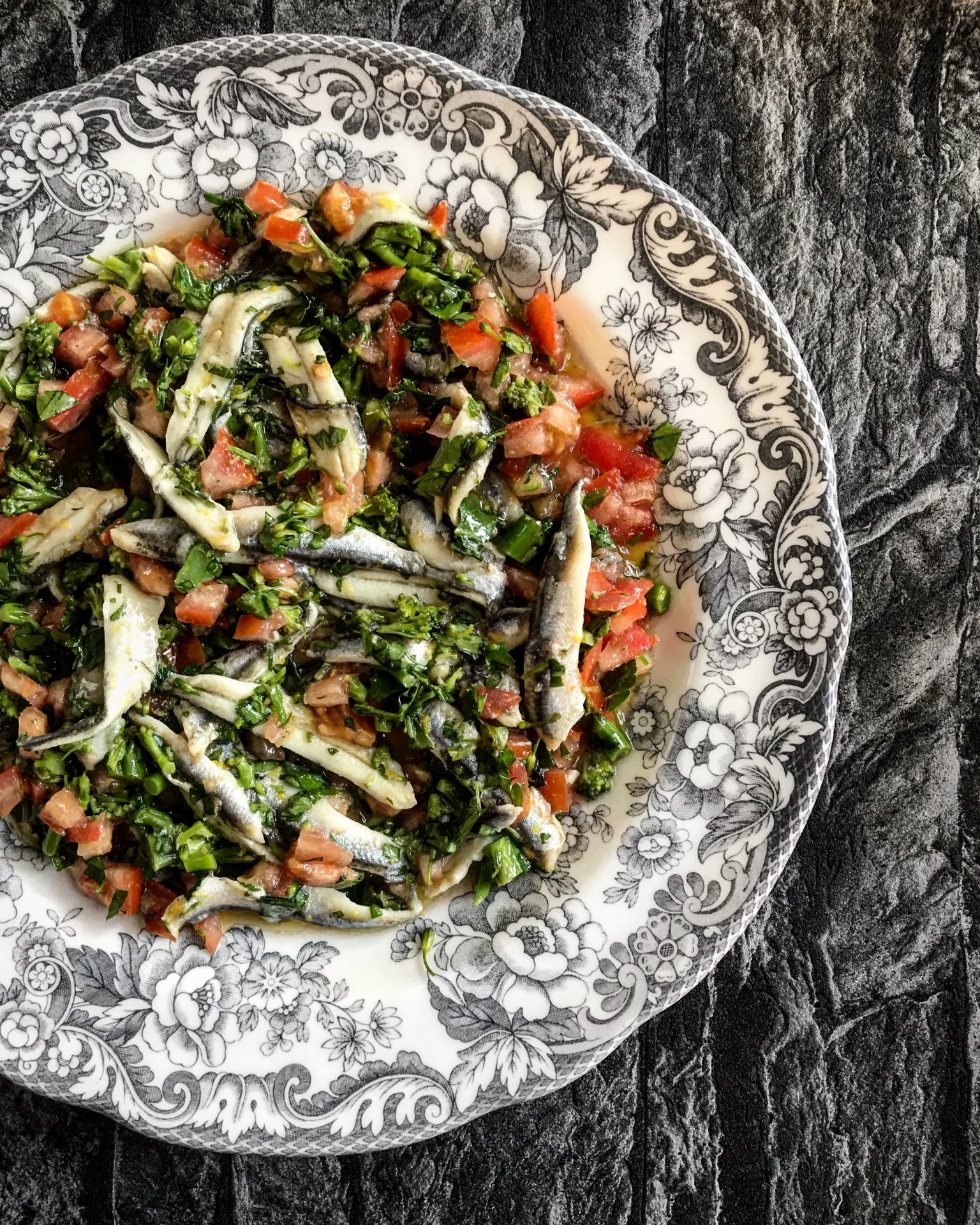 Have you had any long weekends away anywhere? What food inspiration did you bring back?