I have had a bottle of Maille's ubiquitous Dijon mustard on my shelf for as long as I can remember.  It goes into salad dressings and that's about it.  I had never really thought about using it in anything else.  And then I went to the Maille boutique in Paris (a little sidetracking from my Patisserie tour) and was blown away by all the different varieties and flavours.  I was desperate to try them but the hordes of Japanese tourists simply would not budge.  I left disappointed but inspired to do a bit more with mustard!
Shortly after that trip Maille opened a store on Piccadilly.  I visited one evening with some friends and this time I was treated to a most amazing tasting tour of the range.  Not only mustards but also vinegars, oils and salad dressings.
266 years of tradition
The first Maille store opened in 1747. At the time Antoine- Claude Maille was a distiller and vinegar maker appointed to Louis XV but also Queen Victoria and King William IV as well as other European monarchs.  The story is really rather fascinating and illustrates the heritage that has been the platform for this brand.
An age old process that starts with brassica juncea – brown mustard seeds
Maille is located in the heart of Burgundy. Dijon is synonymous with mustard and in 1937 it was granted the right to an 'Appellation Controlee', which subjects it to regulations similar to high quality regional wines. Mustard must be made in the prescribed method for it to be called a Dijon mustard and although the mustard seed does not have to come from the Dijon area, approximately 40% of Maille's mustards use seeds from Burgundy. The seeds are small and brown – like those I use for tempering curries.  These give the high level of pungency and the smooth texture.
If I had to choose a favourite….
I was blown away by the range of flavours. I had no idea you could get so creative with the addition of herbs, fruits and alcohol.  Of all the different variations I tried, the Lime and Dill Mustard was my favourite.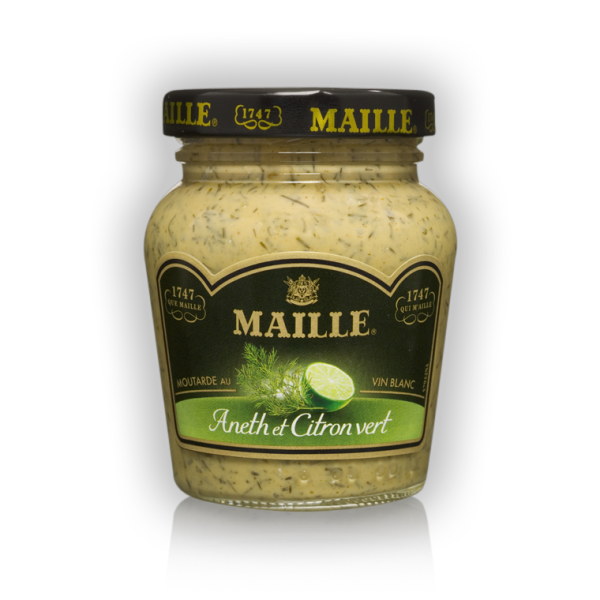 It's very easy to whip up a basic vinaigrette using this lovely creamy mustard.  I've also been using it stirred into mashed potatoes or mushed into my jacket potato before sprinkling on some grated cheddar, spread as a base over blinis topped with smoked salmon,  or on sourdough toast on it's own as a late supper with some white wine.
Most of all I've been using it as a topping for roasting white fish.  Any white fish works well – I've used this on haddock, cod, skate, scallops but our favourite is on monkfish.  It's a strong sturdy fish which doesn't take long to cook which means the mustard can simply go on top without burning.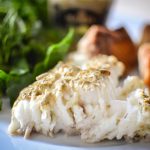 Print Recipe
Roast Monkfish with Lime and Dill Mustard
Notes
1 large fillet of monkfish (or any white fish such as haddock, cod or skate)
2 tbsp olive oil
2-3 tsp Maille Dill and Lime Mustard
Preheat the oven to 200C. Pour the olive oil over an ovenproof dish and then lay the washed and de-boned fish on top. Dollop the mustard on top of the fish and then smooth over with the back of your spoon so the fish is evenly coated all over. Bake the fish for about 20-25 minutes That's it. Really easy.  I serve this with roast potatoes and a salad of kale and spinach lightly tossed with some vinaigrette made with the mustard.  If you don't have time to make roast potatoes, mashed or steamed new potatoes work just as well. Instead of roasting, you could also bake individual portions of the fish in some greaseproof paper.  Prepare the fish as above, place the piece onto the greaseproof paper and add a wedge of lime before wrapping the parcel and baking.
The store in Piccadilly is well worth a visit.  Leave yourself about 45 minutes for the tasting as there is a lot to try.  You might then need to leave a bit more time to buy all your favourites!
Are you a mustard fan? Which flavours do you like? How do you use mustard?