I'm very fussy about tomatoes.  I love the sundried variety but not in pesto.  I like the raw variety but only paired with basil and mozzarella and in a 'cachumbar' (salad) with sliced onions, red chilli powder and salt.  But I love cooked tomatoes.  Especially in curry.  It's my go to dinner when I am ravenous but don't have the patience to wait.  I usually eat this with some plain basmati rice or leftover boiled barley or kicheree.
I have used green tomatoes because I like the unusual.  You could use cherry tomatoes cut in half or the different coloured heritage tomatoes that can be found at farmer's markets nowadays.  Which ever you choose, make sure they are lovely and firm so they will keep their shape when cooking.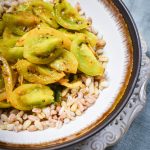 Print Recipe
Tomato and Onion (Shak) Curry
Notes
2 tbsp vegetable oil
1 heaped tsp small black mustard seeds
1 heaped tsp cumin seeds
4-5 curry leaves
1 medium onion
1 clove garlic
250g red or green tomatoes - it doesn't matter as long as they are firm and tomatoey! Don't buy the cheap economy ones
1.5 tsp salt
1/4 tsp turmeric powder
2 tsp dhana jeeru (coriander and cumin powder)
1-2 tsp red chilli powder - more as you wish
1/2 tsp amchur (dried mango powder) - optional but adds a tangy twist
Handful fresh coriander - chopped
To make it 
Slice the onion and garlic and chop the tomatoes into nice large chunks.  About 1 inch is good.  Smaller will turn them to mush and you don't want that. Set aside
Heat the oil in a wok or large saucepan - not heavy bottomed. This is a stir fry type dish.
When the oil is hot add the mustard seeds, cumin seeds and curry leaves in quick succession.  To test the oil you can pop in a mustard seed. If it fizzzles and pops then it's ready.
The seeds will crackle and fizzle and spit up so be careful when you add the onions and garlic now.
Stir for a minute with a fork (not wooden spoon as this will absorb the spices you are going to add)
Add the tomatoes and then the rest of the spices and stir until all the spices are well combined.
Keep tossing the onions and tomatoes with the fork for a few more minutes to cook the dry spices out and prevent sticking.  If it does stick add a little more oil or water.
Do not overcook.  you want the onions to have a little bite and the tomatoes to keep their shape.
Pour into a serving bowl, top with the chopped coriander and eat straight away.  This dish does not keep well so try not to have any leftovers!
I served these on

Clearspring Quick Cook 5 Grains

but you could also go with

plain rice

.
What is your favourite way to eat tomatoes? 
More tomato inspiration here: