Last year I planted a three different varieties of beetroot.  This year I chose just 'Beetroot Boltardy' but with lessons learned, I thinned and replanted my little beets so I'd get nice, fat ones for roasting.  There's no space in my fridge for pickles this year with all the lemon and elderflower marmalade!
I must admit it has been much easier to harvest them too and the greens have been healthier.  I've been adding them to my dhal to give a little extra nutritional boost and a bonus pinky colour.
I discovered a whole host of recipes with beetroot and all year have been pinning to my dedicated board on Pinterest and one recipe I was keen to try is beetroot pasta.  I've seen what beetroot does to mashed potato and it's how I got my girls eating it.  Pink mash they call it and even now they've gone through their girlie pink phase and pink food is a welcome addition to our dinner table.  With the cloudy skies of late it's a great way to add a little brightness to the end of the day.
Discovering beetroot pasta 
Discovering beetroot pasta has been much the same.   The colour of the dough is spectacular and you cannot help but smile while kneading.  It does take a little trial and error with the flour depending on how wet your beetroots are.  For a better flavour and a less watery colour I would suggest roasting them but if you don't have time, boiling is fine though allow some time to leave them to stand and drain off excess water.
Make sure that you purée the beetroot really well so there are absolutely no lumps that could get stick in the machine.  This will ruin all your hard work because it only takes one to stick and the whole batch need to be done again.
We have an Italian pasta machine and it's been a worthwhile investment.  We have used it almost every week for the last 15 years. The important thing is to brush and wipe it clean.  Washing it will lead to rust.
If you don't have a pasta machine, take small balls of the dough and roll it out as thin as you can on a very floury surface.  Then cut strips using a pizza cutter.
I made a double batch of the pasta and left half over the prepared tagliatelle overnight in the fridge.  If you want to do this, put it on a baking tray lined with greaseproof paper and a little dusting of fine semolina.  Helps it not stick a little better than flour.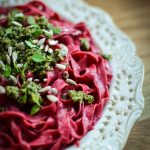 Print Recipe
Beetroot Tagliatelle
Servings: 6
Notes
You'll need
2 medium sized beetroots - about 300g
2 teaspoons olive oil
2 large eggs
1 large egg yolk
350g plain 00 grade flour - you may need more depending on how wet your beets are
1 heaped tsp salt
To make 4 portions
Preheat the oven to 190C
Chop the beetroot (skin on) into thick wedges and toss in the olive oil.
Roast the chopped beetroot in a heatproof pan for about 20-30 minutes.
Leave the beetroot to cool and then rub the skins off gently with a paper towel or your fingers if you don't mind getting them pink!
Pop them into a food processor or blender.  I use a Froothie as the Magimix doesn't quite get it smooth enough.
Add the eggs and egg yolk and then blitz it all up together.
Transfer this mixture to a large bowl and then add in the flour and salt until you get a stiff dough.  It will be sticky to start but keep adding a little more flour and knead away and you'll get a nice smooth dough in about 15 minutes.
Shape the dough into a ball and leave to rest for a couple of hours.
Cut the dough into eight pieces.  I find the easiest way to do this is cut in half and then in half again and then again.
Flatten each piece into an oblongy shape and cover well in flour.
Put it through the machine once to flatten.  Flour it and then pass it through again.  Repeat until you have it just a few mm thick.
Finally pass it through the tagliatelle setting and then leave on a floured work surface, over a laundry rack or the back of a chair to dry as you finish the rest of the pieces in the same way.
To cook the pasta bring an enormous pan of water to the boil and add salt to your taste.
Dust off as much flour as you can before cooking each batch of pasta to avoid the water becoming too starchy.  It only takes a few minutes to cook.
Drain, drizzle in a little olive oil to stop it sticking.
The pasta works well with a light creamy sauce - sauté some garlic and onions, add double cream and seasoning, then toss the cooked tagliatelle through.  Our favourite though is carrot top and sunflower seed pesto but a standard basil pesto would also be lovely. My next step is to make Beetroot Ravioli stuffed with some goat's cheese I bought in France last week.  Can't wait.
Have you ever made beetroot pasta? What did you pair it with? 
Related articles