I've not had much success growing carrots at the allotment.  Last year we planted three different varieties. One variety grew really well but we went away for a weekend and some little critter had a much on them all.  My little one was devastated as she had been growing them for Santa – or rather Rudolf.  Well poor old Rudolf is going to be in for a little surprise this year when he sees these carrots for they are purple on the outside and orange on the inside.
In keeping with our purple potatoes and purple mange tout, we planted some Purple Haze carrots. Of the whole packet that we planted, just a large bunch grew well enough for us to eat.
I didn't want to waste their beautifulness by doing anything other than marvel at them.  It had been a real labour of love growing these.  They had been potted and left on the windowsill to shoot. Transferred to the allotment in their little eggbox into the soil so as not to disturb the roots. Netted over to protect from the carrot top eating animals that may lie in wait.  Watered and weeded almost every week.
I wanted to do something really special with them to cherish their flavour.  I sought inspiration from Pinterest. Some beautiful ideas for soups, roasts and bakes.  But I decided on this fast Moong Bean and Carrot Salad.  Crunchy. Nutritious. Perfect warm or cold.  They were so wonderfully sweet.  Sadly the purple outer disappears when you chop the carrots up.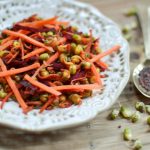 Print Recipe
Carrot and Moong Bean Salad
Notes
You'll need
2 tbsp sunflower oil
1 heaped tsp small black mustard seeds
4 carrots - sliced and cut into thin strips
1 large beetroot - optional  - sliced and cut into thin strips
200g sprouted moong beans
1 tsp salt (or to your taste)
1/2 tsp turmeric powder
2 tsp cumin and coriander powder
1 tsp ginger - minced
Juice of half a lemon
To make it
Heat the oil in a wok until smoking
Add the mustard seeds, let them fizzle and pop for a few seconds and then add the carrots and beetroot if you're using them.
Add the sprouted moong beans, lemon, salt, ginger and all the spices and stir well using a fork.  A wooden spoon will absorb all the spices.
Stir fry for a couple of minutes to cook off the spices.
That's it. Super healthy. Super fast and very nutritious.
I will keep persevering with growing carrots. Especially these beautiful purple ones.  Perhaps not on the allotment with my clay soil though!
Related articles