If there is one crop I'm chuffed with this year it's my runner beans.  I pulled the last of them yesterday and they've given me a plentiful crop all summer.  I plant Firestorm Runner Beans as they have beautiful red flowers which are also edible.  I planted late this year so didn't think I'd get any crop at all but we've been home over the summer just at the right time to pick great tasting beans at exactly the right time before they get too stringy.
We've eaten them with rice and naan breads as curry.  They work so well because they hold their shape and the beans take on a mashed potato texture with the spices.
My girls have enjoyed (I think?!) practising their chopping skills.
But mainly we've chopped them up, steamed them til tender and had them as a hearty salad with some grilled fish.  A great seasonal dressing also takes advantage of some beautiful local apple juice.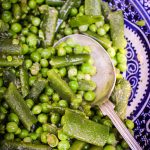 Print Recipe
Firestorm Runner Bean and Pea Salad with Apple Vinaigrette
Notes
You'll need
500g runner beans
250g peas
250ml apple juice
4 tbsp apple cider vinegar (or white vinegar if you can't find any. I used Aspall's)
2 tbsp honey
½ teaspoon salt or more to your taste
¼ tsp ground black pepper
60ml olive or rapeseed oil
To make it
String the runner beans and chop them into your desired shape and size.
Steam them together with the peas for about 8-10 minutes til tender.
Whisk together the rest of the ingredients and then pour over the beans and peas.
Toss together and serve warm or cold with protein of your choice. We like pan fried cod or hake or grilled halloumi.
Which variety of runner beans do you grow? How do you eat them? Here is some more inspiration
Related articles