The sun has been on good form in my little corner of London recently.  The parks seem greener, the blossoms seem to be out in bloom again and even the frost looks inviting.  I hope it is a taste of the summer sunshine to come as I am most definitely a summer girl.  I blame the fact that I was born in Africa and warmer climes.
What I love most about this sun is the food it inspires.  Don't get me wrong.  I love winter food – soups, stews and mashed potatoes and the like.  But I miss eating cold salads. Crunchy raw veg picked straight from the allotment.  They're just perfect summer sunshine foods that make me smile inside and out.  It's hard to get that feeling and that taste in winter so I grab every opportunity I get!
Last week I was given a box of tomatoes.  5kg!  Now we love tomatoes but that's a lot even for my family to get through easily.  We made Tomato and Onion Curry, passata for pizzas and pastas, toasted tomato sandwiches and still had lots left.  So I sought preserving inspiration from Diana Henry and Katie Caldesi. I decided upon Oven Dried Tomatoes.  I haven't made them before I was excited about the flavourings I could add to them.
I hadn't realised there was so much to think about when preparing these so here are a few prompts that might help you decide on your personal preferences.
Sun, Dehydrator or Oven? 
I don't have a dehydrator or the warmth of the beautiful Italian sunshine so I used  my oven (with the light on I might add to simulate the sun).  I read several other recipes online and the oven temperatures varied from 80C to 120C.  I settled on 100C as my tomatoes were rather large.
Scooping the seeds out or not? 
I found that scooping out the seeds meant the tomatoes dried quicker. Logical right? But they didn't look as nice.  So if aesthetics matters to you keep the seeds in!
Baking Parchment or Wire Rack? 
I wanted to keep the shape of my tomatoes and so I opted for a wire rack.  Unfortunately my rack was quite large with the grills spaced quite widely apart so as the tomatoes shrunk, some fell through the rack onto the paper.  I simply turned them over so they were then seed side down to retain the nice round bottom.
Vinegar, Sugar or Flavourings First or After? 
This depends on the acidity of your tomatoes.  Mine weren't overly ripe to be honest so I added a little sugar to bring out their flavour.  If they had been more ripe I think I would have added some vinegar to balance the sweetness out.  As for flavourings, I sprinkled over fresh thyme, dried oregano and red chilli flakes on different batches.  Only the chilli flakes held their flavour well so I would say that you should add any flavourings after drying and into the oil.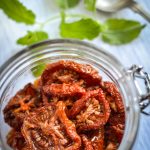 Print Recipe
Sundried Tomatoes
Notes
This really isn't a recipe as such at all but here's how I made them
Preheat the oven to 100C
Slice the tomatoes in half and sprinkle over a little pinch of caster sugar on each one.
Place them on the rack and pop into the oven for 5 hours.  They should be pretty dry at this point but if you want them more so then leave them in as long as you wish.
When they're dry enough for you, put them into a sterilised jar and cover with olive oil.
Now these are a pretty tasty snack on their own with a labneh or feta on toast but you could make a tapenade or pesto, add them to salads, tarts and pizzas or into frittatas. Here are some ideas I've bookmarked…
So what tastes get you through to til the actual summer and warmer weather sets in?