When I was pregnant with my first daughter, there was one food that I craved above everything else.  Kichee.  It makes no sense as to why I was craving this.  It's simply a rice flour dumpling flavoured with cumin, black pepper and green chillies.  I think it was the sticky, comforting consistency that gave me so much satisfaction.
It's not something I could make for myself at the time because the smell of green chillies would send me into a long coughing fit and give me nausea.  My  Aunt Sushila would see my car pull into my mother's driveway and within 30 minutes she'd bring over a plate of steaming hot kichee for me.  Handy having her live just across the road!
It's been a favourite ever since and I've never really experimented with the recipe until now.  I'm finding that black peppercorns aren't settling well with me at the moment so I've been making kichee with just the green chillies and cumin. But last week I picked a very large bunch of wild garlic.  There is a place I fell upon by chance which seems to have remained hidden from other foragers and I got a little carried away with my picking. It works very well chopped into dhal but as I had an inkling for kichee yesterday I thought I'd try it out with that too.  It worked a treat!  There is a very nice, subtle wild garlic flavour but it's the colour that most impressed me.  The dough was a vibrant green which wasn't impacted by the steaming process.
The recipe is incredibly simple so these are a wonderful item in your Biting Biting repertoire.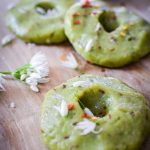 Print Recipe
Wild Garlic Kichee
Notes
You'll need 
50g wild garlic leaves plus flowers for decoration
3 small green chillies - mine were about 2 inches long
2 cups/480ml water
1/2 tsp bicarbonate of soda
1.5/2 tsp salt to your taste
2 tsp cumin seeds
1 cup/160g rice flour - must be the fine flour and not ground rice
red chilli flakes to garnish
olive oil for dipping
This recipe makes about 16
First pound the green chillies and wild garlic leaves in a pestle and mortar and you get a nice paste with no lumps.
Bring a pan of water to come to the boil.  You need a pan which has room for the rice flour to expand so use a large one.
Once it's boiling, turn the heat down to a simmer and then add the wild garlic and chilli paste, cumin seeds, salt and bicarbonate of soda and stir through so they are all evenly combined into the water.
Add the rice flour and let it simply soak into the water for a few minutes.  Once it's all absorbed stir the mixture with a wooden spoon on the very low heat to bash out any lumps. You'll now have a soft dough with a mashed potato like consistency.
Turn the dough out onto a flat plate or chopping board and leave to cool so it's comfortable to handle.
Divide the dough up into 16 portions.  I find the easiest way to do this is to roughly roll a sausage shape, divide it in two and then again and again til you have 16 portions.
Take one portion and roll it into a ball.  You may find it's easier and less sticky to work with if you lightly oil or water your hands.  You can knead it lightly in your hand to get rid of any more lumps.
Once you have a ball, flatten it slightly into a disc and then pierce a hole in the middle. I do this by dipping the end of a wooden spoon in some oil and then using that to make the hole.
Once you've done all the portions in this way, put them into a steamer for 15 minutes to cook.  Leave them to cool slightly once cooked and then serve with some red chilli flakes and olive oil for dipping.
More wild garlic recipe inspiration from blogs and websites I like..