It's been nearly two months now since our cafe closed. I stopped baking for a while. I stopped blogging  for a while too. Truth be told there was just too much still going on closing up accounts, getting rid of stock and equipment. All that alongside a full time job and overseas travel. Weekends just seemed to fly by leaving me even more exhausted than I was on the Friday.
The last couple of weeks have given me back a sense of normality. Things are more or less wrapped up with the cafe. I haven't been jet lagged. There's no training to do as I've still got a bit of quadricep tendonitis and have been told to rest. Yesterday I woke up without an alarm. Had a little cuddle with the youngest. Got up and wanted to bake. I wanted to fill the house with that wonderful baking smell and there's nothing better than gingerbread to do the trick. As it's Bonfire Night I settled on Parkin. Same soporific effect. Easy peasy to make.
I used to make Paul Hollywood's version at the cafe and double batches were never enough. Drizzled with caramel sauce and served with a dollop of creme fraiche, slices would be sold before they even came out of the oven. Today I adapted the recipe a bit using jaggery for an earthier flavour and added some some ginger syrup for a moister topping and marshmallows for a bit of fun.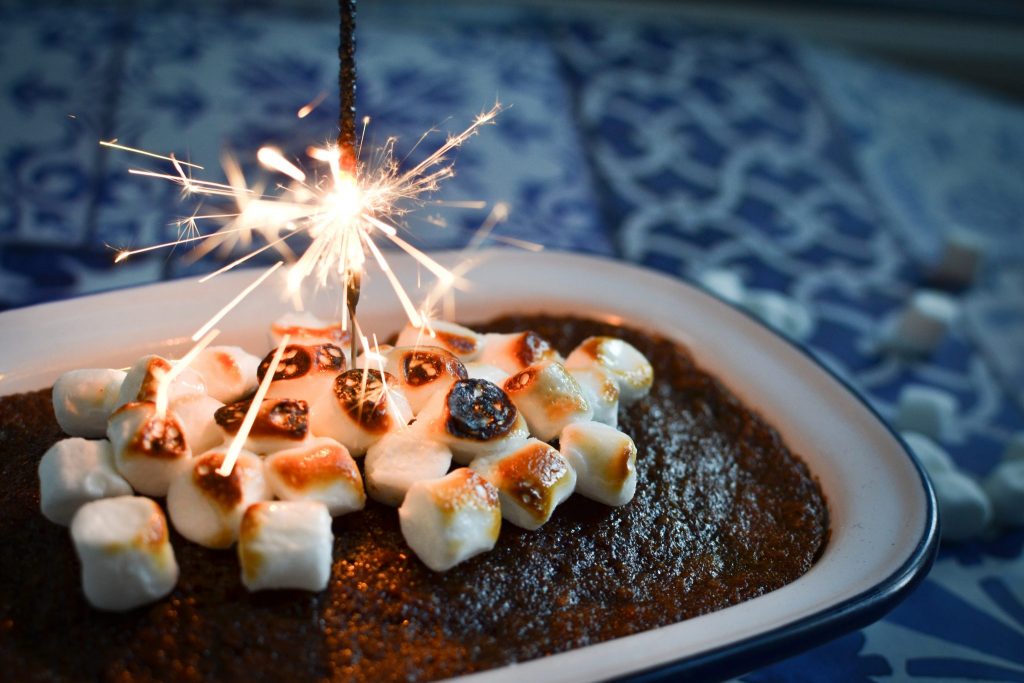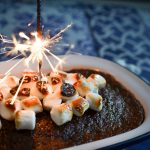 Print Recipe
Marshmallow Parkin
A simple autumnal classic with a fun marshmallow topping
Ingredients
225

g

ordinary oats

225

g

plain flour

1

tsp

bicarbonate of soda

1

tbsp

ground ginger

225

g

jaggery

2

large eggs

125

ml

milk

225

g

unsalted or salted butter

110

g

golden syrup

110

g

black treacle

3-4

tbsp

ginger syrup

Mini marshmallows for topping
Instructions
Preheat the oven to 170C or 150C fan and line a 20cm square baking tin. Or you can use these enamel bowls from Falconware. I had about 8 leftover from the cafe and this mixture will easily fill those.

Blitz the oats in a high speed blender or food processor until you have a thick breadcrumbs consistency.

Add them to a bowl along with the flour, bicarbonate of soda, ground ginger.

Grate in the jaggery. You can use soft brown or dark muscovado sugar but I had a load of jaggery to use up and find that it gives an earthier flavour.

Mix well to combine and set aside.

Break the eggs into a jug. Add the milk and then whisk together and set aside.

Weigh the butter, syrup and treacle into a small saucepan and heat on a gentle heat until it's all melted.

Pour the melted mixture into the four and jaggery mixture and mix well. You don't need to use a whisk. A wooden spoon is fine.

Now pour in the egg and milk mixture and mix again until it is all combined.

Pour into the baking tin and bake for 45 minutes. It will feel soft and when you pop a cocktail stick in, it will not come out clean. That's good. You want this a little moist.

Note - if you are using the smaller enamel bowls, this won't take 45 minutes. About 20-25 minutes is more likely.

While it is still warm in the baking tin, spoon over the ginger syrup.

Once your ready to eat, mound over some marshmallows and then blow torch them a little or pop under the grill to burn and soften a little at the edges.
We made this before we went out to see the fireworks and had it on our return with hot chocolate and ginger wine. I still love doing sparklers in the garden so I added a few mini ones in to show off a bit.  It keeps very well for a week or so and is equally lovely without the marshmallows topped with salted caramel sauce or custard.
PIN THIS MARSHMALLOW PARKIN RECIPE FOR LATER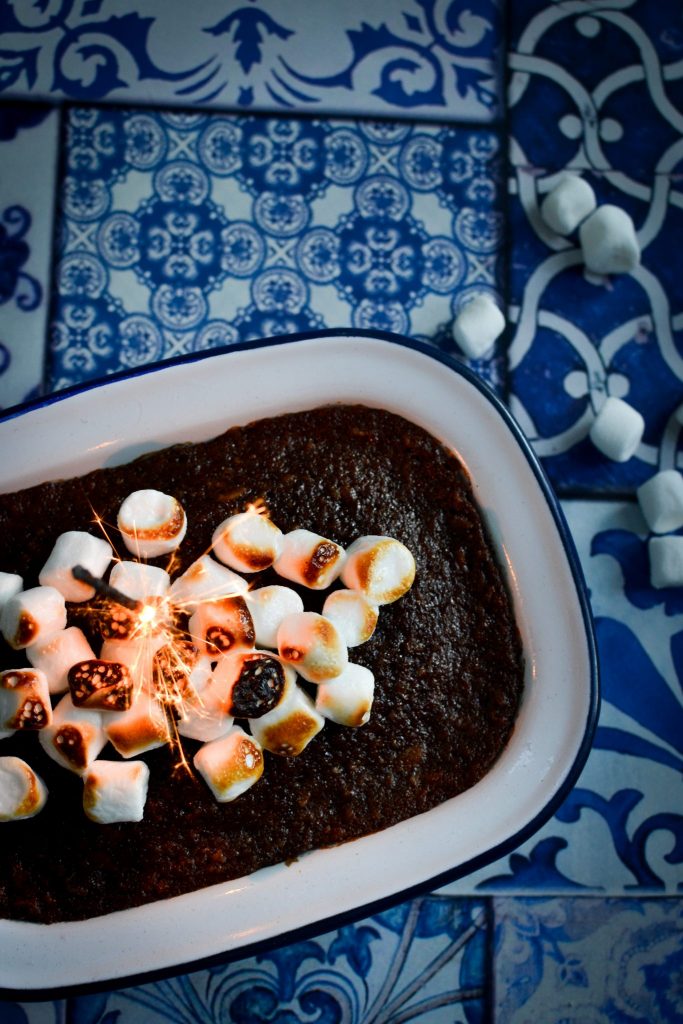 Further reading