I love travelling. Especially travelling on holiday. But the problem with holidays is that you have to leave behind important everyday chores. I know what you;re thinking. "That's the whole point of a holiday!". I know. I know. But when you are away during quite possibly the hottest couple of weeks in the UK for many years, chores like watering and tending the allotment are top of mind. We sadly didn't manage to find anyone to water and pick crop while we were away which means I came back to a rather overgrown allotment plot. Everything seemed to have flourished while we were away. I guess it must have been the two full days of downpour that helped balance the scorching heat. Most of the vegetables are fine. Except the courgettes. I planted a lot because I wanted to harvest them small and petite with flowers still in tact. Hmmm. That plan backfired somewhat as they're the size of marrows! And I have about ten!
So a glut of courgettes. Again.
I'm not really complaining. I know it sounds that way but truth be told I rather enjoy the challenge of thinking up new recipes for them. I'm not sure the girls do though! They're already sick of them and we've only had this one so far.
Firstly two areas of explanation:
I am not a fan of the word 'curry'. We have so many words in Gujarati for this single 'Britisher' word but I really don't know what else to call this so curry it is.
Mint is not usually my herb of choice in Indian food but I had no coriander in the garden whereas the mint was bountiful. And it works somehow.
What I love most about this dish is that it's quick. In fact it took almost as much time to simmer as it did to chop. We were all a bit jet lagged so I wanted something fast and spicy to take that airplane plastic food taste out of my mouth. You know the one? So this dish was perfect.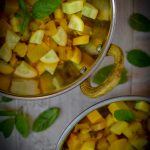 Print Recipe
Courgette and Mint Curry
Ingredients
4

courgettes - about 200g per person

2

tbsp

vegetable or sunflower oil

2

tsp

mustard seeds

1

tsp

salt

3/4

tsp

turmeric powder

1/2

tsp

red chilli powder

1

tsp

cumin powder

Zest and juice of one lemon

Small handful of fresh mint leaves
Instructions
Firstly chop the courgettes. I like these smallish pieces you can see in the photo but you could equally do half moon slices or whole slices.

Put them into two equalish piles and set aside.

Heat the oil in a wok for a few minutes until a mustard seed fizzles and pops when added.

Add all the mustard seeds and let them fizzle a bit before adding one of the piles of courgettes.

Add the salt and spices and stir roughly with a fork or chopsticks and then stir in the lemon juice and zest.

Cover and leave to simmer for about 5 minutes. The courgettes should be nice and soft.

Stir in the other pile of courgettes, check the salt seasoning and add more as you wish.

Leave uncovered for another 3 minutes and then take it off the heat.

Chop the mint leaves and add these in.

That's it. All done.
We had this with store bought corn tortillas but here are some more serving ideas:
warm or cold on sourdough toast
warm with fluffy white rice or couscous and a dollop of yoghurt on the side
in a wrap with lettuce, tomatoes and grated cheddar
And here are some more ideas for using that courgette glut
How are your vegetables growing in this heatwave? What are your favourite ways of using courgettes?