I started writing this post right at the start of lockdown – Mother's Day actually – but then I got distracted because COVID news and then I forgot about it because again COVID news and then I fell ill with Coronavirus symptoms and that pretty much brings us up to date!
Truth is this cake really cheered me up. It's hard separating work and home life at the moment. I'm used to working from home. I have my routine to make sure I get away from my desk, take calls in different places to stay focussed vs slumped in a chair, I exercise and stay active, take regular breaks etc etc. All the stuff we are now being encouraged to do if we are still working. My challenge is I'm not used to everyone else being home and with teens in the house it can get a bit noisy. I like my quiet time. I need my headspace. I'm an introvert and draw my energy from the still. The quiet. The calm. Baking this cake gave me some of that back and so I wanted to post it because if you have the ingredients maybe it'll cheer you up too.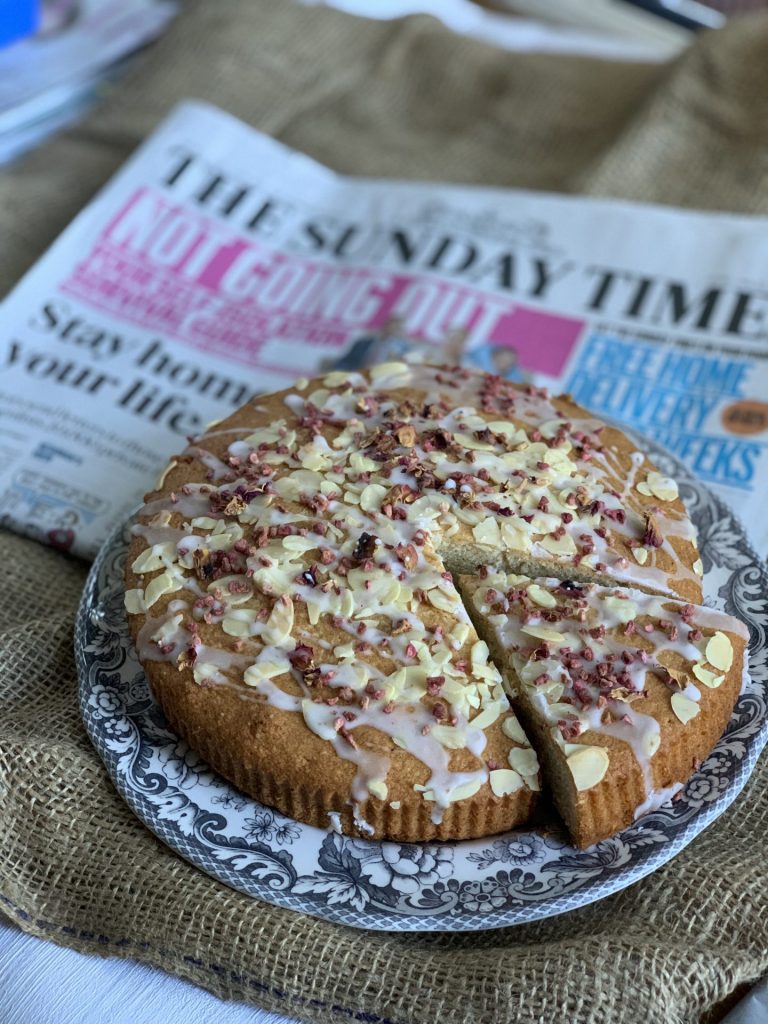 Ingredients
150g caster sugar
150g soft unsalted butter
3 eggs (I had mixed sizes)
1tbsp Rosewater
100g ground almonds
1/2 tsp baking powder
1-2 tbsp milk at room temperature
150g self raising flour
Handful flaked almonds
Icing sugar and dried rose petals for decoration
To make it
Preheat the oven to 150C fan
Line your baking tin. I used a 12 inch round tin but you could use a loaf tin or two six inch tins
Beat together the butter and sugar til creamy.
Add the eggs one by one and beat each time til well absorbed.
Mix in the ground almonds and add the milk.
Fold in the self raising flour. Add a little more milk if the mixture is too stiff. You want it to dollop off the spoon easily.
Spoon into the baking tin and pop in the oven.
About 20 mins in sprinkle over some flaked almonds.
Bake for 50 minutes til a cocktail stick comes out clean
Leave it to cool and then drizzle over the icing and petals. I made a simple drizzle of 2 tbsp Rosewater and about 6 heaped tbsp of icing sugar.
How are you feeling during lockdown? Have you baked anything that's cheered you up?