Did I tell you we switched allotment plots? It wasn't planned but back in December we went over for a little tidy up and bumped into the membership secretary. We had a little chat about struggling with such a big plot and he offered to move us to one a bit more compact that had just come up.
After a look around it took about two seconds to decide. It had a brand new shed and a greenhouse. It was enormously overgrown but underneath it all there was plenty of growing space for our purposes. We moved in there and then!
Rhubarb has been a constant on each of our three plots. We bought one which we transplanted from the first to the second and now our third plot. The second plot had a massive clump already embedded which we ate well from. And this latest (and I hope last) plot has two massive clumps. I tidied the nettles up around them both yesterday and trimmed the outer stalks off to let some light down on the lower ones.
These stalks were just enough for a crumble. The weather has turned cold here this week so it really was a perfect afternoon for it. The girls were each snuggled under their own blankets so I thought individual portions would work well as we settled down to watch a movie. I used up a few old plums and a portion of berries in the freezer too. Mainly for colour as my rhubarb was not too bright in colour and I didn't want green crumble!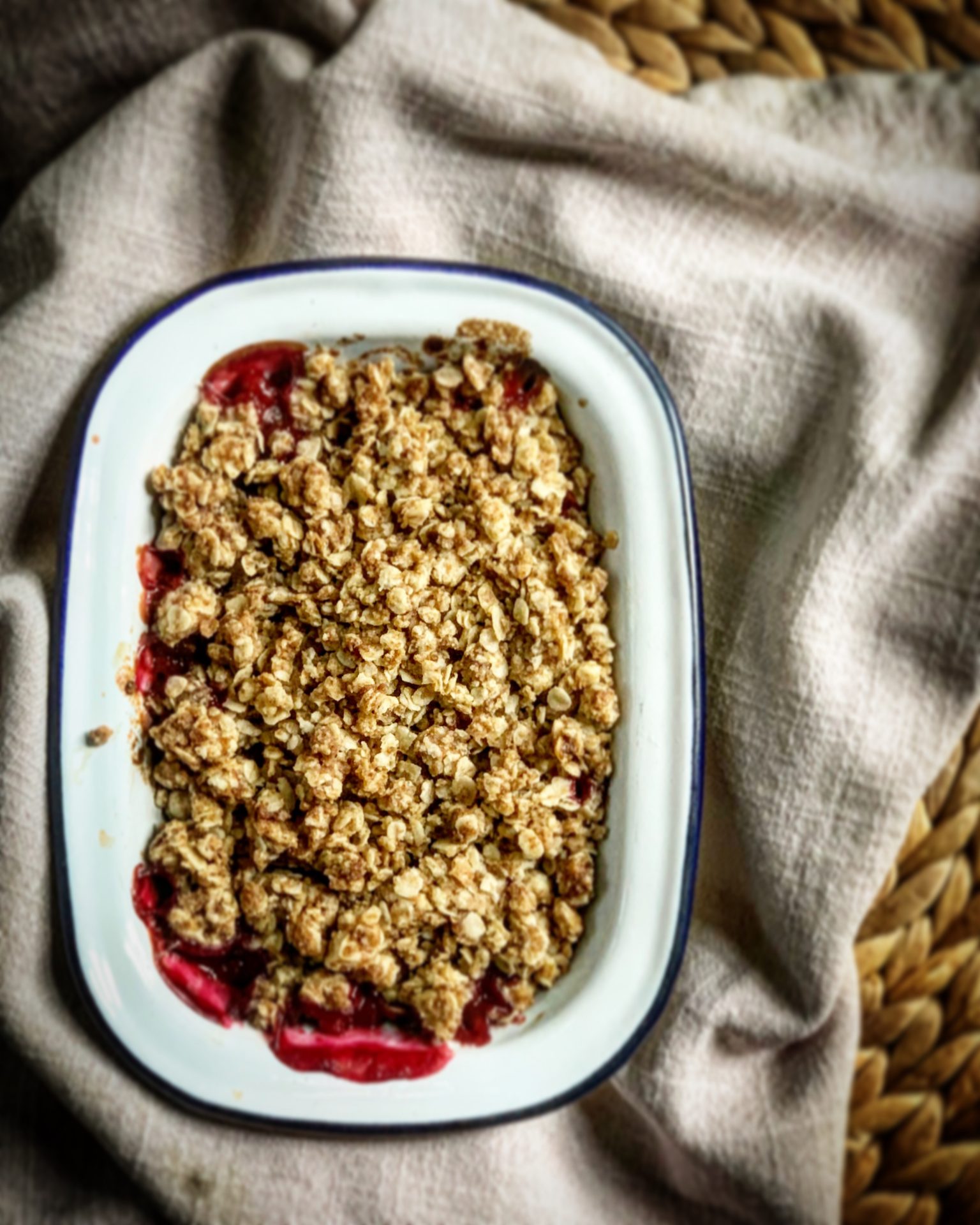 You'll need
3 fat stalks of rhubarb
3 deep overripe plums
2 cups mixed frozen berries
1 stick cinnamon
2 star anise
2 tbsp granulated sugar

– more of you

prefer

a sweeter filling

1 tbsp vanilla extract

150g unsalted butter

150g plain flour

100g soft dark brown sugar

150g jumbo porridge oats

2 balls stem ginger
2-3 tbsp stem ginger syrup
To make it
Chop the rhubarb and plums into a pan – rough two centimetre chunks will do. Add the berries, cinnamon, star anise, granulated sugar and vanilla extract and pop onto a low heat and cover. You don't need any water. The steam is enough to gently cook the fruit til just tender.
Meanwhile put the butter into another pan and melt gently. Add the flour, oats and dark sugar and mix it all together til it's all nicely combined.
Turn the oven on to 180c/160c if it's a fan oven
Divide the fruit mixture into 6 portions (mine fit neatly into mini 16cm enamel dishes)
Spoon over the crumble mixture and bake them for about 40 minutes. The top should be just golden. Leave in for 5 more minutes if you want a crunchier topping.
I had mine with creme fraiche but my family are custard fiends and had a pint each. My Instagram followers seem to agree with custard route.
What do you put on top of your crumble?