I started strength training earlier this year. It was the result of repeated running related injuries . I concluded that I needed to get stronger to run better.
Truth be told it was also the shock of seeing an X-ray of legs at different ages on Instagram. One shot was of a woman that had been strength training consistently into her 80s and the other of one that had not. The difference was astounding and it scared me a little. I'm 50 now and I know we lose muscle mass with age and menopause and also that bone density declines. I started reading up on this and the more I read the more I concluded that I had to start strength training to maintain the ability to run. I have a few world marathons I still aspire to complete!
Now with strength training comes some dietary changes. My trainer counselled me to eat waaaay more protein than I was eating. As a pescatarian I can get the bulk of my protein from food but every now and then I need a bit of help. So I've been using various protein shakes as a supplement. Recently I experimented with using the protein powder in cooking. Baking actually. This recipe is so easy and has around 12g protein per muffin so it's an easy mid morning or afternoon snack.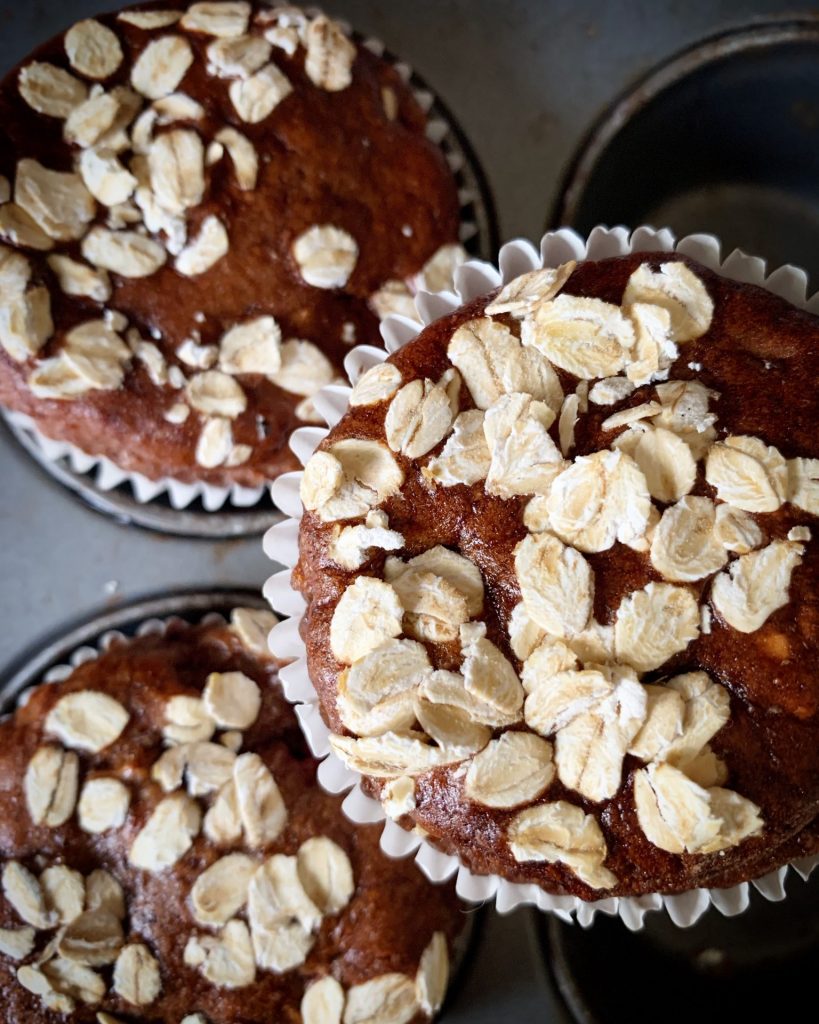 You'll need
300ml milk / your choice of vegan milk
1 tsp white wine vinegar or cider vinegar
60ml coffee (optional – just use some water instead if you don't fancy the coffee. It just enhances the chocolate flavour)
5 tbsp vegetable oil
150g plain flour
150g chocolate protein powder
100g caster sugar
2 tsp baking powder
1 pinch salt
50g chocolate roughly chopped into small 1/2 inch chunks
50g frozen raspberries (or you can use blackberries or blueberries)
30g jumbo rolled oats plus extra for sprinkling
To make them
Preheat the oven to 180c/160c fan oven
Line a 12 hole muffin tin with muffin or cupcake cases
Pour the milk and vinegar into a glass. Stir and set aside.
Put the flour, protein powder, sugar, baking powder and salt into a large mixing bowl and whisk together.
Add the chocolate chips, frozen raspberries and oats.
Pour the milk and vinegar into the dry ingredients and then add the coffee.
Gently mix it all together until just combined otherwise your muffins will not be light and fluffy but rather dense and stodgy. I use a fork and a gentle folding motion.
Using an ice cream scoop, distribute the batter into the muffin cases and bake for 20-25 minutes in the middle of the oven until a toothpick comes out clean-ish. I say ish because if you hit a raspberry or chocolatey bit it might look uncooked so if you suspect this is the case, poke a different area of the muffin!
Take the muffins out of the oven and let them cool in the tray. These keep in an airtight tin for a few days.
Are you eating enough protein?
The chances are that you're probably not. I was nowhere close. I found this article by the British Heart Foundation quite a helpful guide.
I'd love to hear your tips for getting more protein into your daily diet. Please do share your tips below. Thanks!