It's Sharad Poonam (Full Moon).  Look up right now and you'll see nothing but an overcast sky but on Friday morning when we woke up my girls and I marvelled for a few minutes at the moon.  It was like a huge golf ball in the sky shining so brightly in the crisp blue sky before the sun warmed up and shone it away.
Looking up at the moon in winter is a little custom for me and my girls when we wake up.  We used to have a little song they still sing to their dollies now.
"Good morning Mister Sunshine. How did you wake so soon? You scared the little stars away and shined away the moon"
The moon also always reminds me of dahi vadas.  It's a random memory but when she was much smaller, my youngest daughter once called them 'moon bhajias' because they looked just like the moon.  I suppose I see her logic.  They are plump and round dumplings made with urad dhal and once smothered in yoghurt they do look a little moon like.
Full moon or no full moon, they are simple to make.  Cooling in summer as a dish on their own and perfect in winter for accompanying heavily spiced or 'garam' foods to bring cooling balance to the body.
I've used cup measures here because it's easier to remember the proportions of one cup urad dhal to three cups of yoghurt.  The spice measures are also a guide.You should use more or less depending on your own palette.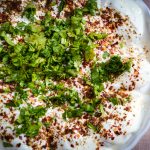 Print Recipe
Dahi Vada
Servings: 15 -20 dumplings
Notes
You'll need
1 cup urad dhal – white or split black urad dhal
½ inch piece of ginger
2 green chillies - optional
½ tsp of bicarbonate of soda
sunflower oil for deep-frying
3 cups plain yoghurt
Salt to taste
Handful chopped coriander
2-3 tsp garam masala
2-3 tsp red chilli flakes
 To make them
Soak the urad dhal in water for overnight or for a minimum of 3-4 hours
Wash and drain the urad dal.
Fill a wok halfway with the sunflower oil and set to heat on a slow to medium flame.
Prepare a large platter with kitchen paper to drain off your vadas once fried.
Prepare a large bowl of water for your vadas to soak in.
Put the urad dhal, ginger and green chillies into a blender and grind to a smooth paste.
Add the the bicarbonate of soda and salt to your taste and mix well till the batter is light and fluffy. It should be a thick puree the consistency of shop bought hummus. Add a little water if needed.
Take two spoons and scoop some batter into one. Using the other spoon make a quenelle or ball shape – this is your vada.
Deep fry in hot oil on a slow flame till the vadas are golden brown, for about 10 minutes.
Drain on the prepared platter of kitchen paper.
Once all your vadas are fried, pop them into the bowl of water to soak for about half an hour.
while they are soaking, prepare the yoghurt by whisking it together with some salt to your taste.
Take your vadas out of the water and squeeze them so most of the water is out.
Place a layer of yoghurt on your serving platter and then place all your vadas on top.
Ladle over the rest of the yoghurt and then sprinkle over the shopped fresh coriander, garam masala and chilli flakes.
Do you have any recipes that remind you of the moon?