Have you succumbed to the lockdown craze of sourdough baking? In our house, my husband always does the sourdough baking but I decided it was time to dust off my bread skills and made a new starter.
I have followed Andrew Whiteley's method in the past and it's worked pretty well so I stuck with the same and after a week, I had my new starter. She had been sitting next to our Ganesha statue every day in the sunlight so that's what I called her. Ganapati – which is also sometimes used to name our most Hindu god of protection.
Now if you've made a starter you will know there's an awful lot of discarded flour and water. I hate waste and so I've been scouring the internet trying to find ways of using it up. Pancakes, crumpets and pizza got a bit boring. I'm a sucker for Peter's Yard sourdough crackers and haven't been able to find any in the shops so I wanted to give them a go. They're just soooo good for when you get the evening nibbles.
I kinda used a bit of a chapatti technique as a base. My discard was quite runny so I didn't actually need to use any water as I would with chapatti but if your's is dry then do add a tiny bit of water at a time if the dough doesn't come together.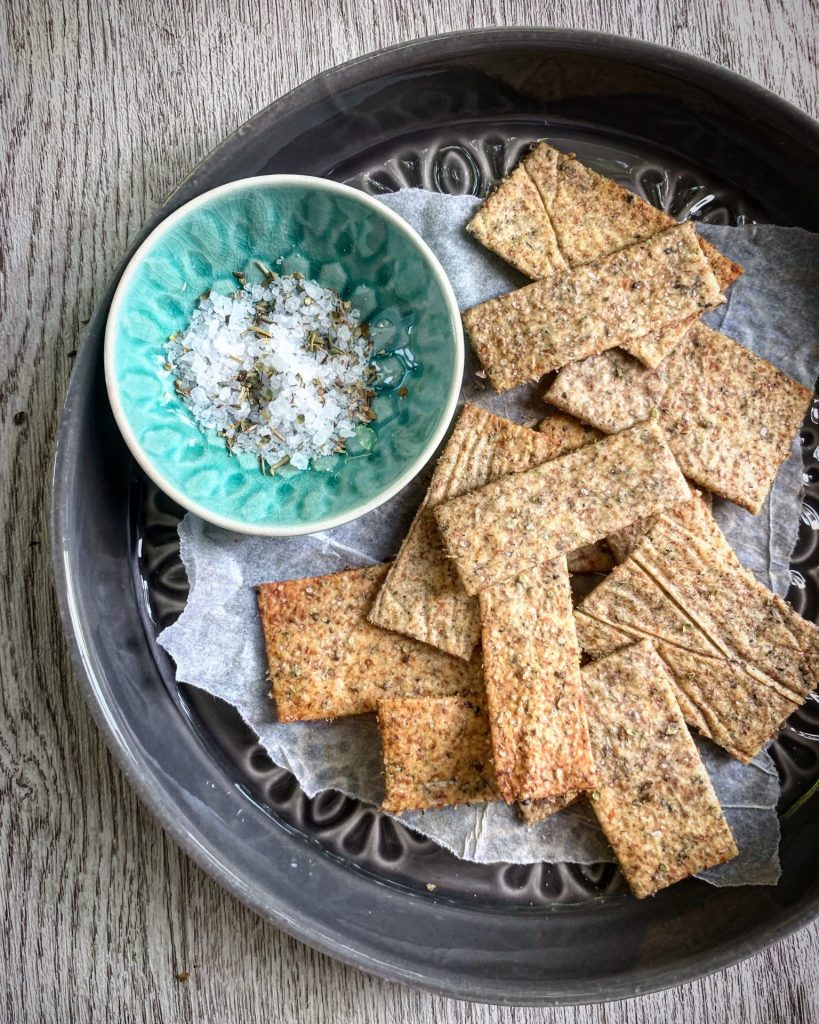 Sourdough Crackers
This recipe makes about two trays worth depending on the shape of your crackers. I just rolled these ones into a rectangle the size of my baking tray and cut them into strips with a pizza cutter.
You'll need
200g sourdough starter or discard
50g plain or strong white flour
50g wholewheat flour
25g rye flour
1-2 tbsp dried oregano
1/5 tsp salt
30ml extra virgin olive oil
To make them
Put all the ingredients into a bowl and mix them together with your hands until there are no dry bits.
Knead very lightly for a couple of minutes so you have a nice smooth dough ball.
Pop it into a bowl, cover and leave aside somewhere cool – the fridge is ok – for 30 minutes .
When you're ready to bake them, put the fan oven on to 150c – 170 if you don't have a fan oven.
Line 2 to 3 baking trays with greaseproof paper and set aside.
Take your dough and cut it into 3 balls. Roll each one out onto a separate sheet of greaseproof paper. Any shape you want.
Tip for rolling super thin – put another layer of greaseproof one top of the dough and then roll. This will help you get to 1-2mm thickness for extra crispy crackers.
Cut the rolled out dough into strips. Or you could be quite precise and use cutters to make them all the same size.
Spray the dough with water and then sprinkle over some sea salt and a few pinches of oregano.
Bake them for about 12 mins – they should be a light golden brown.
Leave them to cool completely and then enjoy them with cheese, hummus, other dips or just on their own.
I'd say these were just as good as the Peter's Yard crackers. Wonderfully crisp and a great flavour. I've also made these with chilli flakes and cumin seeds. I used about two heaped teaspoons of each in the above measures but I'm sure you will have a play and create your own mixes. Let me know!
What have you been missing during lockdown?